Oh hello everyone!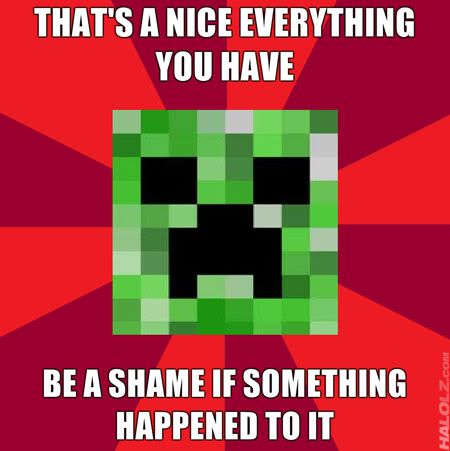 How is everyone's summer going? That's probably a redundant question as most of us talk just about every day, but regardless it seemed like something nice to start this shit out on. There has been lots of things going on lately so I figured we all could benefit from another semi-annual news post.
Firstly we have a new
Minecraft
server. It supports 10 players at a time and we will be building all sorts of awesome shit on it, including monuments of ourselves and BFP maps. Head over to the new official
Minecraft Forum
to talk about it and vote on what map we will be using!
It has gone without a news post thus far that our in-house competitive TF2 team the
Cut-Throat Crew
has competed in two seasons of TF2 Highlander events with the UGC Leauge. Huge props to those guys for not only showing up for weekly matches and very frequent practices, but actually winning their division in Highlander Season 6 and placing 18th at 6 wins and 2 losses in the summer games! As a sub for that team I will tell you that it's a ton of fun and we really do crush the fuck out of people so anyone who wants in please talk to Atatme, Barytaq or Eugene about getting involved for the fall season.
Here
is a link to the team's UGC page where our glorious record and team list can be found. CTC is one of the up and coming teams in the UGC Leauge, go be a part of it!
With the addition of the Minecraft server we are up to about 80 dollars a month in expenditures to keep this server train moving. Huge thanks to Erwin and Nugget for their big donations of late. With Massive's help we will be putting some ads on the site soon to help pay the bills so we're not so reliant on donations. Thanks a ton everyone for helping keep this stuff paid for.
I would also like to note that there's been a change in site ownership as of late. I have owned CTPirates.net since it's inception three years ago, but we have transferred ownership over to Casey (messy recipe,) so he is our new owner as well as webmaster. I will be putting up a new framework soon for our in-house game development company, Plundersoft. Huzzah!
Also, our roster, server info, etc has been updated. Sorry it took so long, I never remember to do that shit. That's all and god damn am I official sounding! Happy August 7th everyone, it only comes once a year.