Holy shit!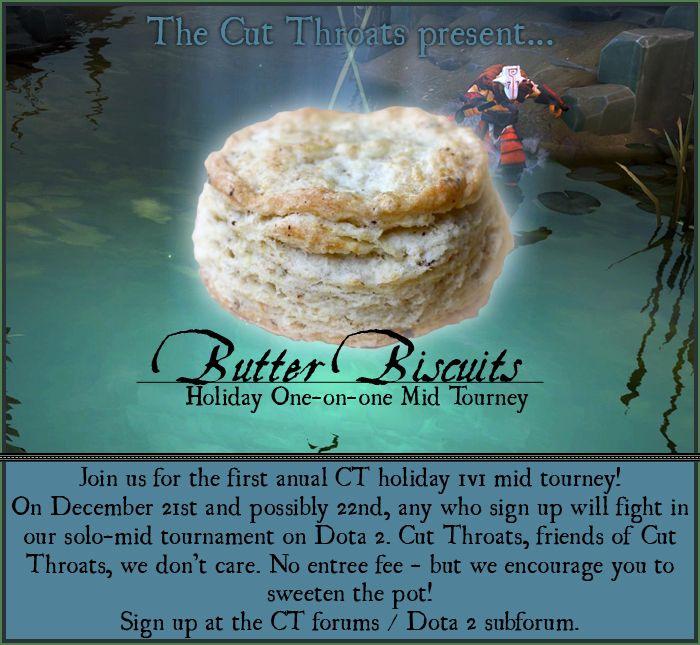 Backstory; a few weeks ago, a few of us got into a discussion about how good Sniper is (as we do) and decided to take it out back and do some 1v1 mid games. Well, enough people wanted to fight that it turned into a full on tourney that our very own Badman put a very sweet prize pool down for. It was so much fun that as a holiday event we want to do a for real one.
HONORABLE MENTION: Crunch won the first one and got tons of free shit.
Atatme and I will not be playing, we're gonna administrate this bitch. Also I would love it if someone would stream - if not, I will.
RULES are subject to change upon discussion, but are currently:
Event
is a double-elimination bracket. We will use some random bracket generator shit to pair you all up.
Matches
are best-out-of-three and proceed as follows:
- First to three kills takes a game
- First to destroy a tier 2 tower takes a game
- Any and all heroes and items are legal
- Each player submits their hero choice to an admin before the game starts to avoid counterpicking
- Once a game has finished, players switch hero choices, unless they both agree to do the same matchup, or choose new heroes
- In the case of a third game, both players use the heroes they won with, unless they agree upon something different
Current Prize Pool:
50 Steam Marketplace dollars
.
Though we highly encourage to get with the program and sweeten the pot a bit!
Note all this shit is entirely up for discussion, change, whatever. Dwol and I don't care we just want this to be awesome.
Please keep signups out of this thread, there is a signup thread
here!
And that being said, lets discuss this shit!